Mother's bid to ban dead baby joke Facebook group
22 June 2012

From the section

Kent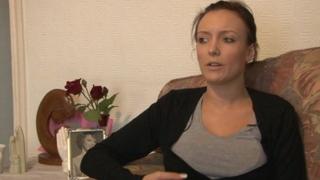 A Kent woman who lost her baby 24 weeks into her pregnancy has started a campaign against a Facebook group which shares jokes about dead babies.
Jessamy O'Neill, of Swanscombe near Dartford, said she was sickened when she discovered the page, which has been "liked" by more than 21,000 people.
The introduction states: "There are no boundaries on offensiveness; post anything you like."
She asked Facebook to remove the group but it said it did not break any rules.
Ms O'Neill, who lost her unborn baby to a rare chromosome disorder a year and a half ago, discovered the page when she went on Facebook to seek support.
She said: "It's not even a joke, it's sickening and it's wrong and it causes hurt.
"If it was racist, sexist or pornographic it would be pulled down straight away but why, when it's an innocent child, is it not?"
She has now set up a page called Get Dead Baby Jokes Page Banned which is currently supported by about 580 people.
In a statement, Facebook said: "We take our Statement of Rights and Responsibilities very seriously and react quickly to remove reported content that violates our policies.
"In general, groups devoted to jokes, even disgusting and distasteful ones, do not violate our policies. Where these groups make real threats or statements of hate, however, we will remove them."