Appeal for Sevenoaks Dorton House nursery for the blind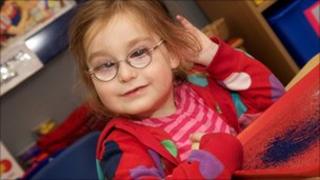 A Kent nursery for visually impaired children has launched an appeal to raise £100,000 in 100 days.
The Royal London Society for the Blind runs the Dorton House nursery and drop-in centre at Seal, near Sevenoaks.
Children are helped to communicate and play with others, overcome mobility issues and understand the world around them while at the nursery.
Actor Zoe Wannamaker said: "All children should be given the opportunity to be the best they can."
She added: "It [the nursery] helps them to be happy and independent little people, and gives parents confidence to look forward to a bright future for their child."
The nursery is aiming to raise funds to expand its specialist nursery services for visually impaired toddlers.
Children play and learn in a purpose built nursery with high contrasting coloured walls, doors and floors for those with some vision.
Braille is taught from an early age, and the nursery uses different methods to allow children with and without sight to work with language and communication.
Many children use the multi-sensory room which contains bubble tubes, fibre optic lights, and moving lights which often produce a reaction from children who have not responded to static lights.
There are different textures on the wall and a vibrating floor can often help those with conditions such as cerebral palsy who require stronger stimulation.
The nursery's aim is to enable the children to be as independent as possible.