London 2012: Kent councils budget £500,000 for relay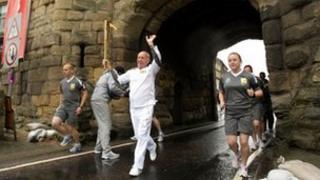 Local councils in Kent will spend nearly £500,000 welcoming the Olympic torch as it passes through the county.
A BBC survey found budgets for the torch relay, which will be in Kent on 18, 19 and 20 July, varied from £750 in Gravesham to £210,000 in Maidstone.
Kent County Council will also spend more than £200,000 but has received grants from Olympics organiser Locog and the government to cover £120,000.
Kent will host two overnight stays, in Dover and Maidstone.
John Burden, leader of Gravesham Borough Council, said it was spending £750 of its taxpayers' money but had also received a grant from the government.
"It think it is excellent value for money. It is a very good event to be supporting," he said.
"We have to the local community doing food and entertainment and we have 50 volunteer marshals. It is a fabulous opportunity and people should go to see the torch."
Sandra Matthews-Marsh from Visit Kent said the Olympic torch was spending more time in Kent than any other county.
The tourism organisation has estimated the publicity and global coverage of the torch relay will be worth £324m over the next four years.
"We actually get the torch before it gets to London so I think the tension is going to mount as we get to that point," she said.
Andrew Bowles, leader of Swale Borough Council, said it estimated up to 20,000 people would visit Faversham to see the torch relay.
"I am absolutely convinced it will bring money into the local economy, if all those spend £10, which isn't very difficult," he said.
"It would be irresponsible for us to expect 20,000 people to turn up and not to spend the necessary money on first aid facilities, emergency car parking and crash barriers.
"We do have a duty of care."
Conservative-run Maidstone Borough Council said it had a budget of up to £210,000 but hoped to spend less.
Councillor Fran Wilson, leader of the Lib Dem opposition, said she believed the council should have been more frugal.
"I think we should have been a little bit more circumspect, but having said that. we are the county town so I would expect us to spend more than most other places," she said.