London 2012: Artist Tracey Emin to carry Olympic torch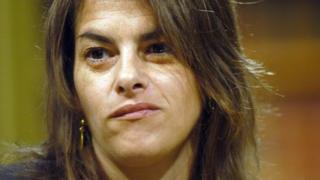 Artist Tracey Emin is to carry the Olympic torch through her home town of Margate in Kent, it has been revealed.
The 48-year-old, who currently has an exhibition at Turner Contemporary as part of London 2012 Festival, will carry the flame on 19 July.
The Turner Prize nominee will pause briefly outside the £17m gallery during her stint as torchbearer.
Thanet District Council leader Clive Hart said it would be Margate's "moment to shine".
He added: "I am extremely pleased that the Turner Contemporary Gallery, one of Thanet's greatest attributes, will be featured on the Torch Relay route.
"This is a wonderful opportunity to showcase all that Thanet has to offer and with Tracey Emin as a torchbearer here in Margate, it really will be our moment to shine."
Emin's exhibition called She Lay Down Beneath The Sea, which opened to the public on Saturday, will run until 23 September.
Turner Contemporary director Victoria Pomery said: "We are delighted that the Olympic Torch will be coming to Margate this July.
"The Tracey Emin exhibition at Turner Contemporary is an important part of the London 2012 Festival, and so it's brilliant that Tracey will be running with the torch through her home town to the gallery."
The flame's first stop in Kent will be when its carried through Tunbridge Wells on 17 July as part of the Brighton to Hastings leg.
It will then arrive in Hamstreet at 10:30 BST on 18 July to begin its journey through the county, visiting Dover Castle and the Channel Tunnel on the same day.
On 19 July the relay will begin in Deal before visiting Canterbury Cathedral and the Turner Contemporary Gallery.
And on the following day the relay will start in Maidstone at 06:42 and visit Mote Park.
During the 10-week relay the torch will be carried by 8,000 torchbearers and will travel about 8,000 miles.