Rally over anniversary of Ramsgate live animal exports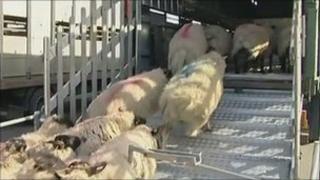 A rally has taken place at a Kent port to mark the first anniversary of the resumption of live animal exports.
Campaigners have been calling for a halt in shipments from Ramsgate, the only UK port used for exports.
Compassion in World Farming, the RSPCA, and Thanet District Council are all opposed to the practice.
However, the National Farmers' Union (NFU) has said the shipments are strictly controlled.
Dil Peeling, from Compassion in World Farming, said protesters were confident they could permanently halt the practice.
"We have enough victories under our belt to encourage us to keep on carrying on," he said.
"Certainly with the level of support we've being seeing here in Ramsgate, it's not a matter of if, but a matter of when."