Chatham fire murders driven by spite over divorce
1 June 2012

From the section

Kent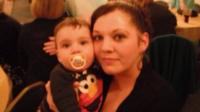 A young mother whose body was found after a ferocious fire at a terraced house in Kent had been trying to save her own life and that of her toddler son.
Firefighters found 20-year-old Melissa Crook by the window of an upstairs bedroom with Noah's body, wrapped in a cot quilt, at her feet.
"She had clearly made an attempt to rescue the baby - had taken the baby from the cot while trying to get out of the room," said fire investigator Mick Jackson.
Mother and child did not make it and Ms Crook's father Mark, who jumped out of back bedroom window, died from burns six days later in hospital.
Investigators knew from the start the fire had been started deliberately, but why and by whom?
Senior investigating officer Det Ch Insp David Chewter said the Crook family were "nice, decent people".
As Maidstone Crown Court later heard, they were an "ordinary law-abiding family" with no known enemies.
But the court heard there was a problem within the family which had been "festering" for a long time - Melissa's relationship with Iraqi Kurd Danai Muhammadi, who was four years older.
She met him in her teens and went to live with him in Coventry at the age of 16.
"There was nothing I could do," her mother Amanda told the court.
"Melissa had made her own mind up. We gave our blessing. We knew where she was and thought she was safe."
The couple married when Melissa was 18 and she became pregnant unexpectedly with Noah the same year.
But by the time of the fire she had returned to her parents and was seeking a divorce after Muhammadi hit her and was given a police caution.
Nevertheless, he was next of kin and immediately after the fire police, headed for Coventry to tell him of the deaths of his wife and son.
But before they got there Muhammadi was a murder suspect.
Arrested at work
Roadside Automatic Number Plate Recognition cameras had tracked his car travelling from Coventry to Chatham shortly before the fire in the early hours of 10 September 2011 and returning again shortly after it was reported.
He was arrested that afternoon at the used car dealership where he worked.
His girlfriend of less than a month Emma Smith, from Coventry, and long-term friend, bouncer Farhud Mahmud, from Maidstone, Kent, were arrested in the following days.
All three were charged with three counts of murder and two of the attempted murder of Ms Crook's mother Amanda and brother Bodhan, who both escaped the fire.
Muhammadi and Mahmud were found guilty of all the charges, while Smith was convicted of manslaughter but cleared of the attempted murder charges.
Police believe the impending divorce was the motive for the arson attack, described in court by prosecutor Mark Dennis QC as "an act born of a mixture of spite, anger and resentment".
They believe Muhammadi was "encouraged and goaded" by Smith, who had traded insults with Ms Crook in a series of abusive text messages before the fire, and helped by Mahmud.
Muhammadi protested in court that he loved his son, would never have wanted him to be harmed and that he regarded the Crooks as his own family.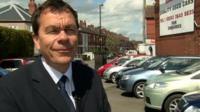 Ian Scott-Lazarus, owner of Andrews Garage where Muhammadi had worked since 2008, said the murders were completely out of character.
The couple had seemed happy and Ms Crook took Noah to the garage to show him off. "They seemed like a really loving couple," he said.
Mr Scott-Lazarus was one of 72 prosecution witnesses. He told the court Muhammadi had described the fire to one of his employees the day before it even happened.
"He said that Melissa and Noah had been hurt in a fire and that he was going to go back and finish it off tonight - that's what she [the employee] told us," he said.
"Danai was very upset and wasn't behaving normally.
"None of us are able to explain it or find any sense in any of this. We are a small family firm and everybody has been affected by this - by someone that we knew and trusted behaving in this way.
"I don't think we will ever come to terms with what he did."