Kent obesity-related hospital cases multiply 10 times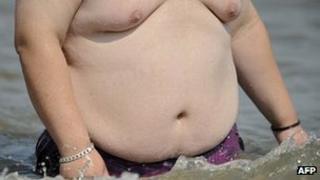 The number of obesity-related hospital admissions in Kent has multiplied almost 10 times in four years.
NHS figures show there were 334 admissions where the primary diagnosis was obesity in 2010/11 compared with 37 in 2006/07.
Moya White, senior dietician at Darent Valley Hospital in Dartford, said the figures did not show the whole picture.
"Obesity is also very commonly a secondary or tertiary cause of admission," she said.
"It is having several impacts.
"It is putting much more pressure on all of the health services in many ways.
"Not only because of actually caring for these patients, but we are having to supply more equipment to cope."
She said the NHS was having to provide equipment such as bariatric wheelchairs and operating theatre beds.
Heart attacks
In some cases patients were too large to fit through clinic doorways so they had to be seen in special rooms.
NHS Medway has seen hospital admissions rise from 12 to 60, West Kent from 13 to 127 and Eastern and Coastal from 12 to 147 in the last four years.
Ms White said obesity-related diseases included heart attacks and diabetes.
"It is a lot to do with lifestyle," she said. "The basic equation is if you eat too much and you exercise too little you will gain weight.
"But interestingly, surveys show that overall as a population we are eating less calories. I think the biggest thing is the lack of exercise.
"I find people will change once they have got a problem.
"It is the people who have had a heart attack or who have got diabetes because of their obesity who think I have got to do something about it."