Margate's Turner Contemporary celebrates 'phenomenal year'
16 April 2012

From the section

Kent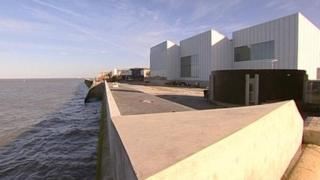 Margate's Turner Contemporary has attracted three times as many visitors than expected, picked up awards and received glowing reviews. But can the art gallery really be a catalyst for the long-term regeneration of the Kent seaside town?
Director Victoria Pomery says it has been a "phenomenal year".
Overall, visitor numbers were three times higher than expected, with 500,000 people passing through its doors.
It means the gallery has been the third most-visited attraction in Kent, beaten only by Canterbury Cathedral and Leeds Castle.
Ms Pomery said: "There's a real tangible change in the area of Margate, with more than 35 new businesses opening in the Old Town and Lower High Street.
"Shops have reported doublings of takings and estate agents a surge in people looking to buy a property in the town."
Questions remain, however, as to whether the gallery can help change the image of Margate over the long-term.
In a report to mark its anniversary, the gallery claims to have benefited the Kent economy to the tune of £13.8m.
It says the figure, which was put together following research by a consultancy firm, takes into account the amount of advertising generated by international press coverage of the gallery, as well as the spend generated by visitors.
But James Kennell, who lectures on tourism and regeneration at the University of Greenwich, said it was too early to assess the gallery's long-term impact.
'Slow process'
He said: "Regeneration is a long and slow process. It's tricky for an institution like Turner to have to start justifying itself economically just a year after it opened."
Mr Kennell said it was difficult to interpret the gallery's £13.8m figure.
He said: "The question to be asked is where that money is being spent? Is it being spent locally? Is it being spent on travel? Is it being spent in the gallery? They are all things we need to know about these figures to make a judgement.
"I'm a complete believer in Turner Contemporary as a project and a driver for tourism and regeneration.
"But we need to be judging this in five years' time, 20 years' time, because it's taken Margate 30 years of recession to get to the state where it is now and it's going to take that long again to turn it around again."
Madeline Homer, Thanet District Council's community services manager, agrees more can be done to capitalise on the gallery's success.
She said: "We need to build on the momentum of the gallery. Regeneration takes time and this is just the start.
"The town is changing and we do have some other initiatives to ensure that the success story spreads beyond the Old Town."
But she said it was clear the gallery had made an impact.
She said: "We are nearly at full capacity in respect of business uptake in the Old Town and that is inevitably down to the Turner gallery.
David Foley, the chief executive of East Kent Chamber of Commerce, said he was optimistic over the future of the town.
He said: "We are dealing with brand Margate and brand Margate has suffered over the years.
"For many people it's a dilapidated town that hasn't changed with the modern age and the Turner is doing it's best to change that.
"Give us a bit of time and I think you'll find that Margate will have a happier image, not only to people in Kent but in fact throughout the world."