Huge explosion as experts detonate large WWII mine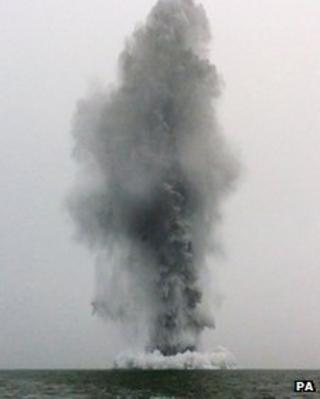 Water and ash were propelled more than 120m (390ft) into the air when Royal Navy experts detonated a German mine in the Thames estuary.
The 750kg (1,650lb) unexploded World War II (WWII) weapon was placed on the sea bed after it was caught in the nets of a fishing boat earlier in the week.
Divers brought it to the surface and then took it to a spot off Kent, during a "delicate" seven-hour operation.
Lt Dan Herridge said it "could have gone off at any moment".
'Significant risk'
It is thought the mine, which was designed to sink big ships, was originally dropped by parachute during WWII.
Lt Herridge added: "Due to the amount of high explosive in the mine, which posed a significant risk to public safety, it was necessary for the mine to be lifted and taken to a safe location to be dealt with.
"Because of the construction of them, they are all fully intact and ready to go. This was quite a large one. Potentially it could have gone off at any moment."
The Ministry of Defence said the 2m-long (6.5ft) device was raised from the seabed by a four-man Royal Navy team using a specially designed mine-lifting air-bag.
It was transported to a location two miles (3.2km) from Warden Point on the Isle of Sheppey where it was blown up.