Protesters stage rally over new Dover hospital delays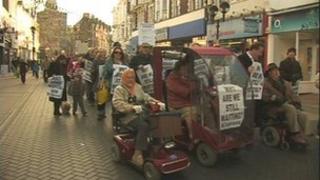 About 100 people who are angry about delays in building a hospital in Dover have staged a rally in the town.
Construction work for the new hospital, due to start in 2009, was scrapped after the Environment Agency raised objections because of flood risks.
The project is expected be complete by 2014 but campaigners say progress has been too slow.
East Kent Hospitals University NHS Foundation Trust said it was also "frustrated" by the delays.
Campaigner Reg Hansell said: "The heath provision for Dover and the villages has been run down, declined for 15 years.
"They keep promising and promising but we have given up, which is why we are demonstrating today."
He said Dover residents needing hospital treatment or tests had to travel to Ashford and many people found it difficult to get to the hospital.
The trust said it was committed to building the new hospital on the site of the Buckland site.
'Complete by 2014'
Stuart Bain from the trust said: "Once the review of maternity services across East Kent is completed we can finalise the detailed plans and then submit the planning application to the council.
"Subject to approval by the Council, work should start on site by December 2012, with completion by April 2014."
"Those campaigning for the hospital are pushing against an open door and I'm as frustrated as they are by the delays, which have not been of our making."
Charlie Elphicke, MP for Dover and Deal, said: "They said they were going to build a new hospital five years ago, they said that 10 years ago and they said that 15 years ago.
"This time we want to make sure it happens on time, on plan, on budget and in 2014."