British Gas apologises to man who spent winter without gas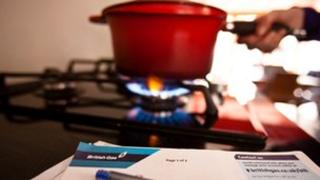 British Gas is to apologise to a Kent customer with learning difficulties who spent last winter without household gas.
Douglas Carter, 59, from Tunbridge Wells, was found dirty and dishevelled by Kent police who called in Age UK.
It was while helping Mr Carter that the team from Age UK found out he had spent six months without gas.
British Gas had installed a card meter after Mr Carter ran up a debt of £600, but he lost the card.
'A bad way'
Mr Carter spent six months without hot water and central heating.
"I didn't have no gas all over winter," he said. "I was panicking and I was quite upset."
Amy Springett, Mr Carter's support worker, said his learning difficulties meant he was unable to tell the company the full extent of his problems.
"When I found him I had never seen someone in such a bad way," said Ms Springett.
"I do feel that he's sort of been let down a lot by the system and for things like his bills he's had no help to read them or write back to the company."
British Gas has now been able to get Mr Carter's meter working again and they are recovering the arrears he owes at £3.50 a week.
Leonie Edwards, of British Gas, said: "I am very sorry that we did not fully recognise Mr Carter's circumstances, and that we failed to provide him with the high level of service he should expect from us.
"We have conducted a thorough review of what went wrong and will be contacting Mr Carter to apologise and to check he is on the best tariff for him.
"We may also be able to offer additional assistance, such as free insulation.
"We would urge any customer and anyone with caring responsibilities to make us aware of any special requirements."