Linkhill crash rescuers get bravery awards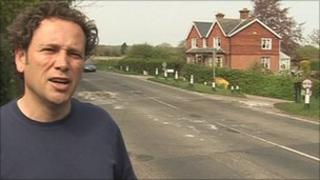 Three men who went to the aid of a woman in a burning car following a crash in Kent have been recognised for their bravery.
Michael Jacques, Wayne Thistleton and Pc Lionel Kelly went to the aid of Amanda Maidment on the A268 at Linkhill, near Cranbrook, in April.
Ms Maidment suffered multiple fractures and her two daughters were also injured in the head-on collision.
The men were awarded the Royal Humane Society's Testimonial on Parchment.
Mr Jacques, who lives near the scene, and Mr Thistleton put out the blaze with a fire extinguisher.
They comforted Ms Maidment for half an hour until emergency services arrived.
Linkhill Road Group has been campaigning for road safety improvements and a 40mph speed limit at the spot for years.
Following the accident, Kent County Council agreed to lower the speed limit.