Margate seafront revamp referred to full council meeting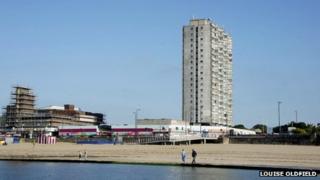 Controversial plans for a new Tesco superstore on the seafront in Margate have failed to receive the expected go-ahead from Thanet District Council.
At a meeting of its planning committee on Wednesday night, councillors voted to refer the application to the full council meeting in December.
Developers Freshwater want to create a superstore, hotel, bars and offices and renovate Arlington House tower block.
Campaigners in the Kent resort have said it will lead to traffic chaos.
They have raised concerns that any approval of the proposed development for "the UK's first seafront superstore of 7,565 square metres" would be unlawful.
The Margate Conservation Area Advisory Group said: "There will be an unacceptable loss of jobs and trade from existing businesses and it contravenes Margate's own adopted planning policies and regeneration strategies."
One opponent who attended the council meeting said he thought it would have a "negative effect" on the resort.
'Open debate'
The planning committee had been expected to give the scheme the final go-ahead, but before it could be discussed Councillor Rick Everitt (Labour) intervened to say the full council should be given the chance to discuss the "crucial application".
"There's obviously a lot of issues around it, there's big public interest in it, it's a crucial application to the future of Margate, and I think it's appropriate that all members of the council should have their say, and that the public should see that there's a full and open debate," he said.
Vice-chairman of the planning committee, Councillor Ken Gregory (Conservative), said the council would be fair to all sides when making its decision.
He said it would be dealt with in a "purely open and transparent way".