The curtain rises at Canterbury's new Marlowe Theatre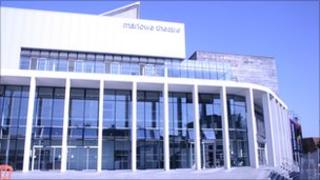 The curtain has risen at Canterbury's new £26.5m Marlowe Theatre following a two-year construction project.
The new building has seating for 1,200 people and an orchestra pit that can accommodate up to 80 musicians.
High profile names such Orlando Bloom, Joanna Lumley, Jools Holland, Timothy West and Prunella Scales supported a £4.2m fundraising campaign.
The Earl and Countess of Wessex are attending a gala evening later to mark the official opening.
There will also be open days on Saturday and Sunday when the public can look round the theatre and take part in workshops.
The building's architect Keith Williams said: "The new Marlowe is that very rare thing - a major new contemporary theatre building within a magnificent historic cathedral city."
Canterbury City Council, which owns and runs the theatre, contributed about £17m of the cost of the structure, Kent County Council and SEEDA also supported the project.
Theatre Director Mark Everett said: "Audiences at the new Marlowe Theatre will have the opportunity to be entertained, to enjoy, to learn from and to talk about world class theatre.
"The Marlowe Studio will be open to people of all ages to participate in the performing arts, and experience more leftfield or intimate live entertainment.
"We're thrilled that the two new auditoria will be served by fabulous front-of-house facilities for everyone enjoying the best new theatre so far in the 21st Century."
Chairman of the New Marlowe Theatre development trust, Peter Williams paid tribute to the people who helped fund the project.
He said: "The response from the public in these straitened times has been phenomenal. This is truly a theatre the community has asked for and helped to create."