First screening for Whitstable Electric Theatre Company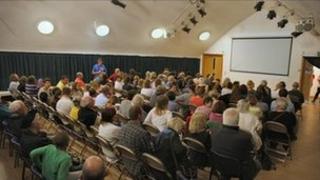 A community cinema in Kent has had its first screening amid plans to expand the operation.
The Whitstable Electric Theatre Company, an independent, volunteer-run cinema, showed the latest Pirates of the Caribbean on Friday.
Feedback from the cinema-goers who attended the event will be used to select the next film to be shown.
The group is now going to set itself up as a formal society with the British Federation of Film Societies.
'Great turnout'
A public meeting will be held at the Horsebridge Centre on 20 September when people will be elected to positions including publicity officer and venue liaison manager, with the aim of setting up a fully-functioning cinema within two years.
Founder Simon Poole said: "We did have a few little technical hitches but we were pleased with how it went for our first attempt."
He said the first night, which was a test screening, had a "great turnout" with more than 120 people there.
Comfort was an issue and organisers struggled to find seats in Whitstable that could rival a mainstream cinema, but people were urged to bring cushions and make themselves at home, he added.
Liz Daone, director of the Horsebridge Centre where the screening was held, said it was exciting to be able to offer cinema "right in the heart of the town".
The cinema group is going through feedback ahead of its next screening dates on 4 November and 2 December.
Helpers are being sought to support the operation by distributing posters in the town, putting chairs out and away, and carrying out administration.