East Kent Pfizer site 'to be enterprise zone'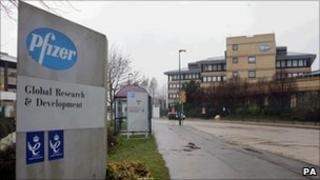 The Pfizer site at Sandwich is expected to become a new enterprise zone, the BBC has revealed.
The government is due to announce the creation of 10 new enterprise zones across the country on Wednesday.
Drugs giant Pfizer said in February that its east Kent base, which employs 2,400 people would close by 2012. The site went on the market in June.
An enterprise zone would bring business rate discounts, simplified planning and access to superfast broadband.
'Growth funds sought'
Laura Sandys, South Thanet MP, has previously said the enterprise zone bid was one of two "key components that will actually drive change and make the difference" as the east Kent economy recovers from the Pfizer closure.
She said another component was a bid for regional growth funds for the area.
Ms Sandys also said it was crucial to have "lots of different types of businesses on that site" including some pharmaceutical operations but also different industry sectors and greater diversification.
When the base was put up for sale, Pfizer renamed the research and development site Discovery Park in the hope that it would still be used as a research centre. The drugs company is keeping about 350 jobs at the site.
Kent County Council also said the site offered an opportunity for new pharmaceutical, "cleantech" and hi-tech research and development companies to start up and grow.
Concerns about the wider impact of an enterprise zone have come from the Dover and East Kent Chamber of Commerce.
Chief executive David Foley said: "If it's just the enterprise zone established on the Pfizer site, good though that may be for some people, that will have the effect of sucking in businesses from out and about.
"I'm afraid there isn't the fat on the bone in Thanet and there isn't really in the Dover district.
"If it's a wider area, say the Manston corridor, that will certainly throw the spotlight on what is potentially the fastest growth area in east Kent."
Details of 10 new enterprise zones are due to be announced by the government on Wednesday.