Boat accident victim Adam Rose flown home from Greece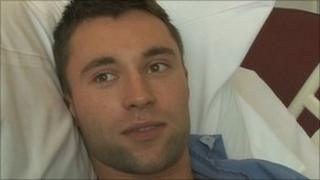 A Kent man has been flown home from Greece after suffering serious injuries in a boating accident.
Adam Rose, 21, of Wilmington near Dartford, suffered deep cuts to his hands, feet and groin when he fell overboard and hit the propeller.
Mr Rose, who had been on holiday on the Greek island of Zante, was rescued when his friends dived in to save him.
He said: "I wouldn't be here today, they saved my life as much as the medical team."
Mr Rose was flown home on Wednesday and is undergoing treatment at Darent Valley Hospital in Dartford.