East Kent businesses 'setting up' as Pfizer closes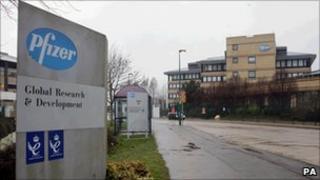 New businesses are already setting up in east Kent as the area moves to a post-Pfizer economy, an MP has said.
Laura Sandys was responding to claims it could take up to a decade for the area to recover after the drugs giant closes its Sandwich plant.
Kent County Council leader Paul Carter had said it may take five to 10 years for the local economy to recover.
Ms Sandys, South Thanet MP, said: "I'm a little bit more optimistic than Kent County Council on this."
'Phased exit'
She said a task force of politicians had already submitted an enterprise zone bid to the government and was also seeking regional growth funds.
"It's also crucial that when Pfizer leave the site, it sells it to a company with a vision, and a vision that actually means lots of different types of businesses on that site," she said.
"There have been quite a few new businesses that have been setting up and new recruitments."
Ms Sandys said the task force would find out whether the enterprise zone bid had been successful "in the next couple of weeks or months".
The drugs giant said in February that its east Kent base, which employs 2,400 people would close, but it would keep about 350 jobs at the site.
Pfizer said there would be a phased exit from Ramsgate Road, by 2012, after it put the site on the market in June.