Dover Harbour Board given deadline over port sale bid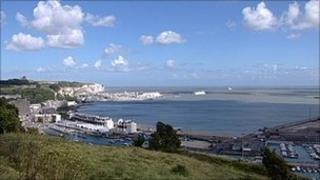 Dover Harbour Board has been given four weeks to decide whether to continue with its plans to sell the Kent port after criteria for port sales changed.
The government has set out new rules under which sales of major ports should deliver "an enduring and significant level of community participation".
It has also asked Dover Harbour Board (DHB) if it wants to amend, withdraw, or continue with its sale.
DHB issued a statement saying it believed its scheme met the criteria.
Residents in the town have already voted in favour of a "People's Port" bid by Dover People's Port Trust (DPPT), which has the backing of Conservative MP Charlie Elphicke.
Under the "People's Port" plan, Dover residents would buy the port.
Neil Wiggins, from DPPT, said the change in criteria was a significant development.
He said: "I hope that it's one that will sink the Port of Dover's privatisation plans. I think it's not what they expected."
He added: "It's good news for us because it puts community at the heart of the future of the port."
'Missing jigsaw piece'
In a letter to DHB chairman Roger Mountford, Transport Minister Theresa Villiers asked him to tell her if the board wanted its sale scheme to be considered under the new criteria or whether it wanted to withdraw or amend it.
She also said it would be helpful if she was informed of a decision "within four weeks".
DHB said it welcomed the revised criteria and it believed the changed rules reflected the port's ambitions.
Mr Mountford said: "The government has recognised that benefits from privatisation should flow both to local communities and to the national economy.
"Our scheme will deliver community participation, investment and regeneration, and the ability to develop and expand port infrastructure, while maintaining the resilience of fundamental parts of our national infrastructure."
He also said the port considered the criteria to provide a "missing jigsaw piece" which now fully aligned Dover's vision with government policy.
The government's new criteria apply to sales of major ports in England and Wales, including Milford Haven in south Wales, Shoreham port in West Sussex, Poole in Dorset and Harwich Haven in Essex.