Westgate Towers in Canterbury rescued by Charles Lambie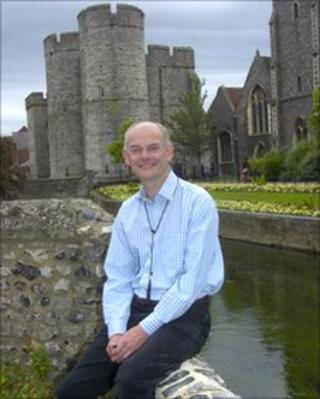 One of Canterbury's historic landmarks has been brought back to life - not by lottery funding, but one man's love of the city and its heritage.
The imposing Westgate Towers, medieval gateway to the city of Canterbury and the museum within it, were threatened with closure due to council spending cuts.
Property consultant Charles Lambie, who already owned the Victorian jail building next door to the towers, approached Canterbury City Council and presented it with a vision of what he could do with the towers.
Within just three days a plan of how the project could work had been put together.
He donated £250,000 to keep the museum open and gained a 40-year lease.
Mr Lambie then embarked on a project which would transform part of the building in Pound Lane into a modern glass cafe and create a glazed high-level bridge to link the jail to the towers.
To date the project has cost Mr Lambie more than £1m.
'Process is invigorating'
What makes a man invest such a huge sum of his own money to keep a museum open? Why not buy himself a yacht instead?
"History," said Mr Lambie, who is also chairman of the board of trustees for the Canterbury Archaeological Trust.
"I get much more pleasure out of doing this than I'll ever get out of a yacht.
"If you are interested in history you are never going to have an opportunity to create something like this.
"It's really special and it's a privilege to be able to have the opportunity. Every single day I learn something new, the whole process is invigorating."
Mr Lambie, who is 47, came to Canterbury in the early 1980s as a student, fell in love with the city and has had a home there ever since.
"Canterbury's heritage is what underpins every business, every visitor and every resident's experience of the city - it's the one thing that ties it all together."
Felons' exercise yard
The Westgate Towers is the only one of seven gateways that survived in Canterbury because it was used as a jail.
The building - as a museum - was always constrained by the hidden entrance and no facilities, which left it struggling to accommodate visitors.
Combining the towers with the Victorian jail cafe has provided a solution to a building problem, something Mr Lambie undertakes on a daily basis in his role as property consultant.
He said: "The towers run as a charity and the cafe supports the towers' shortfall. The two together make a really compelling attraction which make it usable."
"This is the first public/private initiative where you are putting together a publicly owned asset with the towers and with the investment into Pound Lane it should hopefully make it sustainable."
But will his investment actually make him any money?
Mr Lambie believes that his public/private initiative could address some of the current funding issues.
He said: "There's a lot a people looking to see whether it's a sustainable model.
"I believe we are in for three or four years of a very difficult economic climate and certainly public expenditure, whilst it hasn't actually decreased in true numbers currently, it will have to I think, spending pressures will increase.
"So we've combined two assets but used private money to maximise their appeal.
"We'll see - you never know until it is actually up and open and running. I think it will be sustainable."
The towers and the cafe - which is located in the former felons' exercise yard - officially open on 28 July. So far Mr Lambie has employed about 20 people in his venture.
He said: "This combines my passion for history with property and Canterbury so it pulls together the three core threads.
"I can look out of my office window at the towers - it couldn't be better."