New Tunbridge Wells Hospital ready to be equipped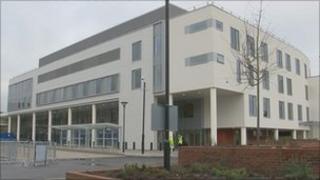 The remaining part of the new Tunbridge Wells Hospital at Pembury has been handed over to be fitted out.
Ten wards which each consist of 30 ensuite single bedrooms are now ready to be equipped by the NHS trust.
Other areas also being handed over on Thursday include the accident and emergency unit, the outpatients department and operating theatres.
It has been described as a "key milestone" with the hospital due to be fully opened to patients in September.
Flagship hospital
During the next four months, a team will kit out the 59% portion of the £230m building ahead of the closure of the Kent and Sussex Hospital and the transfer of its services to the new facility.
Hospital project director Graham Goddard said: "This is a key milestone for us as the builders move out and we move in to commission the building, creating a flagship hospital of which everyone can be extremely proud."
He said they had millions of pounds of equipment to install and 1,500 staff who had to attend familiarisation courses.
The first part of the new hospital opened in January when the women's and children's services were transferred from the adjoining Pembury Hospital which closed.
The Kent and Sussex Hospital will close when the new hospital is opened.
A midwife-led birthing unit will come into use at Maidstone Hospital in September at the same time as its children's and women's services are transferred to the new hospital.
The new Tunbridge Wells Hospital will fully open during the week beginning Monday 19 September.