Kent residents plan most royal wedding street parties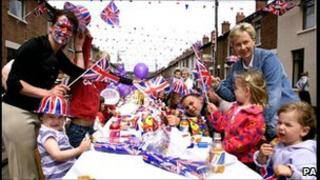 More royal wedding street parties are being planned in Kent than anywhere else in the country.
That is according to Republic, which has so far found 54 are planned in the county to mark the 29 April event.
The group, which wants an elected head of state, said almost one third of local authorities have received no interest in street parties.
Kent County Council put its relatively high numbers down to a much-simplified application process.
In February, the authority waived charges for street parties on quiet residential roads and cul-de-sacs.
It said even more applications had come in since Republic requested the figures earlier this month, with the total number now at 60.
'Zealous monarchists'
The campaign group said its figures, which only have responses for 107 out of more than 400 UK local authorities, showed a lack of national interest in Prince William's marriage to Kate Middleton.
Campaign manager Graham Smith added: "The reality is that only a tiny minority of zealous monarchists are interested.
"Despite the relentless hype, the British public just aren't excited by the wedding or the royals."
Republic's investigation showed about 500 parties are planned across the UK, but it does not take into account functions planned at people's homes or in village halls.
'Morale boost'
Lord Lieutenant of Kent, Allan Willett, who is the Queen's representative in the county, will be one of the guests at the ceremony.
He said: "The royal wedding will provide a welcome morale boost and splash of colour in these difficult times, and I'm confident the event will be well celebrated in our towns and villages."
The deadline for applying to stage a street party in Kent is 15 April. The final date for events on main roads or bus routes passed on 4 March.
Bryan Sweetland, the council's cabinet member for highways, said: "We set out to make sure this process was as simple as possible, so that if residents wanted to enjoy the event with their neighbours, then they wouldn't have to plough through piles of application forms."