Kent siblings reunited on date after 30 years apart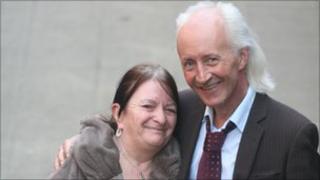 A brother and sister from Kent were reunited after more than 30 years apart when they met on a dating website.
Sarah Kemp, 42, travelled from her Edinburgh home to London to meet George Bentley, 47, after exchanging emails for three months online.
The siblings only realised they were related while talking about their childhoods over a pub lunch.
They were born to the same parents in Ashford but were separated in the 1970s when their mother and father split.
Ms Kemp, who was six at the time, joined her mother in Edinburgh and George, 11, went to east London with his father.
She said they had tried to look for each other as adults, but with no luck.
The cleaner added: "Can you imagine the surprise, joy and embarrassment we both felt?
"It was such a crazy thing. We had so much in common, and we really enjoyed each other's company.
"It was as if we'd known each other all our lives."
Mr Bentley, a builder from East Ham, London, did not know his sister had married and changed her name. She has since divorced.
Mr Bentley said: "I had absolutely no idea where she was. After a while, I think both Sarah and I gave up looking."