Lincolnshire hospitals patient deaths spark inquiry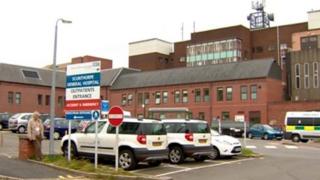 Grimsby and Scunthorpe hospitals are being investigated after whistleblowers made allegations of 10 patient care incidents including two deaths.
A Clinical Commissioning Group (CCG) said the cases involved vulnerable and elderly patients.
North Lincolnshire CCG did not disclose details but said the cases occurred between February and May, with some patients left without food and water.
An NHS Trust said it was conducting a "very thorough internal investigation".
'People are whistleblowing'
The CCG, which commissions services for the hospitals, said nine incidents were reported to have taken place at Scunthorpe General Hospital and one at Grimsby's Diana Princess of Wales Hospital.
Of the 10 patients, three were alleged to have learning disabilities while another three were elderly.
Several alleged cases involved patients "not getting adequate food and hydration fluids over a period of days". In other reports, some were not given medication over a certain length of time, North Lincolnshire CCG said.
Dr Robert Jaggs-Fowler, the CCG's medical director, said it had raised "very serious concerns".
"It has taken up to four months for some of these cases to come to fruition", said Dr Jaggs-Fowler.
"At the moment the CCG cannot reassure the community in North Lincolnshire that the services are of a safe standard."
The GP said the incidents had been reported via the local authorities' safeguarding teams and "not through the normal communication channels within the Northern Lincolnshire and Goole NHS Foundation Trust".
Patient care 'a priority'
He said: "This gives us extra concern because it's very much a case that people are whistleblowing."
Formal letters of concern were sent by the CCG to hospital bosses but it was yet to receive responses, Dr Jaggs-Fowler added.
The Trust, which is currently in special measures because of high mortality rates, said findings from its investigation and review would be discussed after it concludes in July.
In a statement, chief executive Karen Jackson said patient safety and care was a priority for its employees.
"A minority are more serious than others, but a robust reporting process is followed for all of them in our hospitals.
"In this particular cluster, a small number of incidents were classed as 'serious' and others were not but have been included in the investigation because of some possible similarities."