Row over Humber Estuary port development plans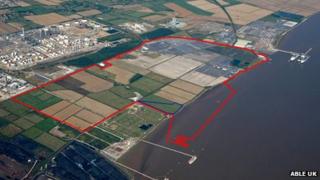 A local authority has objected to a port's plans to build a new jetty on the grounds it could "kill off" a £450m wind turbine factory.
The government gave the Able Marine Energy Park (AMEP), on the south bank of the Humber Estuary, the go-ahead in December.
But Associated British Ports (ABP) has submitted plans to build a jetty on part of the same site.
North Lincolnshire Council said ABP's plans had been "hastily announced".
The small triangular area of land is owned by ABP but the development consent order granted by Transport Secretary Patrick McLoughlin allows AMEP developer Able UK to buy it.
The Marine Management Organisation (MMO) is currently considering ABP's application to build the Immingham Western Deepwater Jetty there, but said a decision could take some time.
'Few new jobs'
Marcus Walker, head of planning and regeneration at the council, said: "The site has been in ABP's ownership since the 1950s and despite being allocated for development has no history of planning applications until the AMEP was brought forward."
"The ABP proposal for a jetty would provide few new jobs but would almost certainly kill off the AMEP proposals."
Able UK development director Neil Etherington said its factory would create 4,000 local jobs.
"Our plans have been subject to a lengthy and comprehensive planning process over four years," he said.
"It should also be noted that the Secretary of State was fully aware of the ABP application at the time of his announcement."
John Fitzgerald, ABP's port director for Grimsby and Immingham, said the council's response was "disappointing".
"Every 10 years we've developed at least one riverside berth.
"This one in particular is for our expanding liquid bulks trade... something based on larger vessels than can be accommodated on existing facilities.
"From our perspective we believe there is an opportunity for both parties to get together and discuss how we can work together to ensure all the projects we're looking at up and down the Humber can develop."