Lincolnshire couple jailed for stealing daughter's compensation cash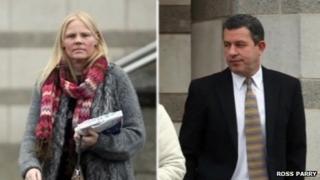 A divorced couple who stole almost £500,000 from their severely brain damaged daughter's £2.6m compensation fund have been jailed.
Cathy Watson, 44, and Robert Hills, 50, used the money to buy cars and to pay for cosmetic surgery.
Judge Jacqueline Davies said the theft financed their "greed and indulgence."
Watson, from Scunthorpe, was jailed for five years and six months, while Hill, from Grimsby, was sentenced to three years and four months.
Doncaster Crown Court heard how the couple bought more than a dozen cars, including BMWs and Mercedes.
Watson bought a Mini Cooper, which she had resprayed and reupholstered in pink and finished with the personalised number plate X66 MUM.
The pair also spent thousands of pounds on jewellery and 250 Royal Doulton ornaments.
'Appalling and distressing'
The compensation was awarded to their daughter Samantha Svendsen, who suffers from cerebral palsy and needs round-the-clock care after suffering brain damage due to medical negligence at her birth.
Judge Davies told Watson: "One can only begin to understand the difficult time you had giving birth to a severely disabled child at the age of 14.
"But you, as her mother, were the person closest to her - the person she looked to trust. You have betrayed that trust in the most appalling and distressing way."
Watson, of Heron Gate, Scunthorpe, was found guilty of three counts of theft and one of converting criminal property, following a trial last year.
Hills, of Holly Mews, Grimsby, admitted four counts of theft from the fund.
He adopted Miss Svendsen - now 29 - when he married Watson.
The judge said that, partly as a result of her parents' actions, Miss Svendsen's fund was now extremely depleted and only £150,000 remained.
She said that, because Miss Svendsen was no longer being looked after by her parents, professionals were now caring for her at a cost of almost £100,000 a year.
Det Con Mick Smith, of Humberside Police, said: "This matter involves a huge amount of public money which was provided for a vulnerable individual for her care for the rest of her life.
"It is clear that in a short number of years what was left of the medical award will be gone and the general public will be funding Samantha's care."