Rosie-Ann Stone not guilty of sister's fatal crash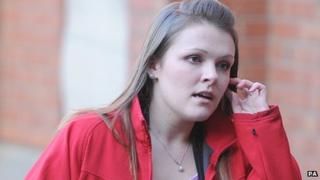 A woman has been acquitted of causing the death of her older sister in a road crash in which their two cars collided.
Jennie Stone, 28, died when her blue Peugeot hit a tree near Fraisthorpe, East Yorkshire, in February.
Rosie-Ann Stone, 21, from East Yorkshire, was overtaking a lorry when she collided with her sister's car, which was overtaking the same vehicle.
Ms Stone denied causing death by careless driving and was cleared by a jury after a trial at Hull Crown Court.
The sisters were travelling in separate cars when they became stuck in a tailback on the A165 near Bridlington behind a slow-moving lorry.
Jennie Stone, who was further back in the queue, pulled out to overtake.
'Incredibly emotive circumstances'
Ms Stone was in tears when she explained from the witness box how the crash happened.
She described how she looked in her mirror and pulled out to pass the truck but was suddenly aware of another vehicle scraping against her car.
To her horror, she realised it was her sister who was attempting to overtake the lorry from further back in the line of traffic.
The jury heard how the lorry and the sisters' two cars were three abreast across the single carriageway road before Jennie's car clipped a crash barrier, went out of control and hit a tree.
She died at the scene.
The Crown Prosecution Service (CPS) defended its decision to prosecute Ms Stone.
Prosecutor Jonathan Sharp said: "We are aware of the incredibly emotive circumstances of this case but when making decisions in any case we must adhere to the Code for Crown Prosecutors.
"...[It] requires us to consider whether there is sufficient evidence to provide a realistic prospect of conviction and whether it is in the public interest to prosecute.
"All the evidence has been placed before the jury, who have now returned their verdict, which we of course accept."
The women's brother, Pte Gregg Stone, 20, of the 3rd Battalion, The Yorkshire Regiment, was shot while taking part in a mission to rescue an Afghan policeman in June 2012.
Miss Stone's family, including her parents and her surviving three brothers, were in court throughout the trial to support her.