Hull to Selby rail line electrification is 'essential'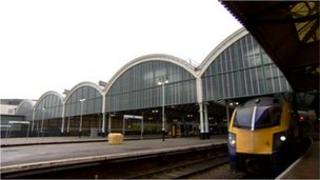 Electrifying the Hull to Selby rail line is "essential" to ensure the port remains economically competitive, city councillors said.
First Hull Trains has proposed borrowing £94m from finance firms to electrify 70 miles (112 km) of track.
Hull City Council wants to meet with the transport secretary to seek approval for the plan.
Electrification of the line could be completed by 2017 when Hull is UK City of Culture if the proposal is approved.
First Hull Trains said electric trains could run up to Selby and this plan would enable Hull to be fully connected to the wider rail network powerlines.
'Encourage business'
Councillor Martin Mancey, cabinet member for transport at the Labour-run authority, said: "With the City of Culture coming in 2017 we need high quality transport links to bring the potentially tens or hundreds of thousands of people into the city during that year.
"It is also as much as issue as ensuring we remain competitive with other northern cities. Investment in electrification will encourage businesses to come here."
First Hull Trains has submitted a business plan to Network Rail and the Department for Transport (DfT).
Will Dunnett, the company's managing director, said: "We want to give faster journey times, more reliable services and increased capacity for people travelling to the capital and across the Pennines.
"This is exactly the type of inward investment that would help the city.
"Support from the government has been very strong so far.
"They appreciate we are trying to save money for the public purse but what we really need now is a decision by Christmas to keep this project moving."