Hull Christmas road closure sparks complaints from traders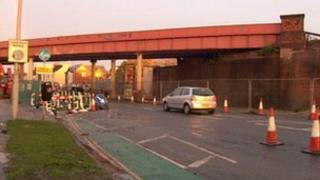 Traders on a busy Hull road have claimed its closure to allow repairs to a railway viaduct will cost them business in the run up to Christmas.
Part of Spring Bank West will be shut for three weeks from 17 December to allow a new bridge to be put into place.
One shop owner said the work was taking place at the "worst time of the year" for his business.
Network Rail has apologised for the "disruption and inconvenience".
Ian Blowman, who runs a furniture store near the site, said he acknowledged the work needed doing but he had hoped that Network Rail would have consulted with shop owners.
"If I could have got a diary and put at date down that would have been literally the last date I'd have put down," he said.
"It's our busiest time of year, where we should be very busy with footfall but inevitably people are going to try and avoid the area and go elsewhere."
Network Rail said work on the £3.2m project had been delayed after the line was used for a rail diversion scheme after a landslip in South Yorkshire disrupted services to Hull over the summer.
In a statement Network Rail said: "We are limited when we can complete the works as we need to close the road and railway to do so.
"There is no good time to cause such disturbance but rail traffic is significantly decreased over Christmas Day and Boxing Day."