East Riding hospital inspectors say 'great improvements' made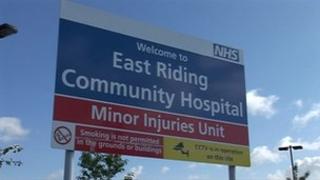 A hospital that inspectors said put patient safety at risk has been given a clean bill of health.
The Care Quality Commission (CQC) said "great improvements" had been made at East Riding Community Hospital in Beverley, East Yorkshire.
The hospital closed 18 of its 30 beds in July after a report said 65% of its nurses were "not fully competent".
But at an unannounced inspection last month it was found to have met the required standards.
The facility, which serves the communities of Driffield, West Wolds, Beverley and Hornsea, includes a minor injuries unit and a GP out-of-hours service.
The CQC commended Humber NHS Foundation Trust for voluntarily limiting the number of beds to 12 "in the interest of patient safety", and said staff training had improved since its previous inspection.
Inspectors said: "It was evident from patient experience, staff testimony and documentation seen that improvements in the care and treatment of patients had been made."
David Snowdon, chief executive of the NHS trust said: "Staff on the ward have worked very hard to reach this position and I want to take this opportunity to thank them all again for their hard work, commitment and dedication to the important work they do."