Pet waste dumped beside East Yorkshire roads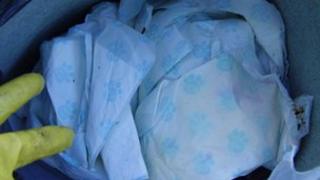 Hundreds of bags of waste containing dog mess and puppy training pads have been dumped on land in East Yorkshire.
The East Riding of Yorkshire Council said the bags had been dropped over the space of several months along the verges of minor roads in the Swine, Ganstead and Coniston areas.
The bags are thought to have come from a puppy farm, pet shop or a dog breeding business, the council said.
Officers described the fly tipping as a "persistent nuisance".
The incidents stopped for a few months but had recently started again, the council said.
"The bags are dropped about every 10 to 20 metres along the verges of quiet roads as if a vehicle has moved slowly and the bags thrown out at intervals," a council spokesman said.
Carl Skelton, the council's highways maintenance group manager, said: "It is costing council taxpayers' money to keep dealing with it, as well as being a blight on the countryside and a possible health hazard."
He said the penalties for fly tipping included unlimited fines and jail terms of up to five years.