Work starts on a new East Yorkshire shellfish centre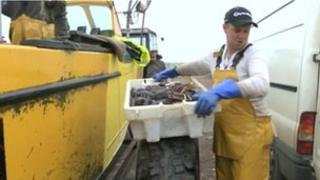 Work has started on a new compound for boats to help boost East Yorkshire's shellfish industry.
The new centre at Withernsea will provide storage for boats and tackle as well as providing space for processing catches.
The project is part of a larger "renaissance" plan to boost employment in the town and the surrounding area.
The compound is costing £950,000, with money coming from European grants and the East Riding of Yorkshire Council.
Local fisherman John White said the investment would make the town's shellfish industry more competitive.
"The compound will give the industry a lot more flexibility in the way that we work," he said.
"We'll be able to buy bait in bulk and store it, whereas at the moment we just have to use small freezers at home.
"We will have proper wash down facilities and killing facilities."
According to figures from the Holderness Coast Fishing Industry Group the East Yorkshire coast shellfish industry is worth more than £9m a year, with about 80% of the catch exported.