£20m flood defence plan in Hull area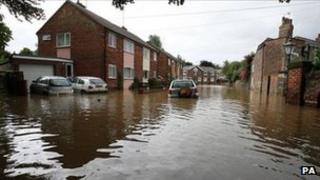 A £20m plan to build new flood defences and upgrade current works to safeguard the north bank of the Humber and the River Hull in East Yorkshire has been announced by the Environment Agency.
The agency said it was a "complex and long-term commitment" in which climate change predictions had been considered.
Renovations will include increasing the height of some current defences along with the construction of new works.
Repairs will begin in 2014 along with longer-term studies into flood threats.
The stretches being investigated by the agency include about nine kilometres of the River Hull, from its junction with the Humber to the city boundary, and on the estuary front from Hessle to downstream of Paull.
A spokesman said the scheme was "likely to span over a period of eight to 10 years", after the plans had been drawn up and agreed by Hull City Council and East Riding of Yorkshire Council. The need for more urgent works would be under constant review in the short-term.