Goole pumping station: Work starts on underground pipe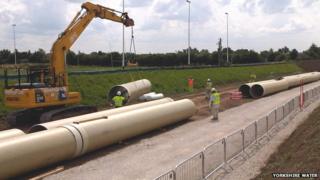 Work has started on installing a second underground pipe at an East Yorkshire pumping station to ease potential future flooding in the area.
The 800m long pipe should allow excess water to be released from Goole's pumping station on Carr Lane to the River Ouse in the event of a flood.
It is part of a £3.6m flood improvement scheme by Yorkshire Water.
The company was criticised for failures at its pumping station during flooding in August 2011.
A Yorkshire Water spokesman said it was working in phases to lay out the 1.2m diameter pipe, which is expected to be completed by October.
He said: "Having a second storm release pipe in place will further improve the facility's robustness and resilience, with the pipe expected to be operational from November 2013."
'Increase pumping capacity'
As part of the water company's flood improvement scheme, which started in May, two additional pumps are being installed at the station.
The water company said the pumps would "increase pumping capacity by 20% shifting up to 1,400 litres of water a second" when working together.
The spokesman said a £275,000 study of the town's sewerage system was nearly complete with the results expected to be released "in the next month or two".
He said it was being carried out alongside an £80,000 study by East Riding of Yorkshire Council into the drainage of surface flood water.
About 50 properties, including businesses and homes, were hit by flood water on 5 and 6 July 2012. An interim report by East Riding of Yorkshire Council found the Carr Lane pumping station was out of action at the time following flooding in 2011.