East Yorkshire mobile pumps to tackle flooding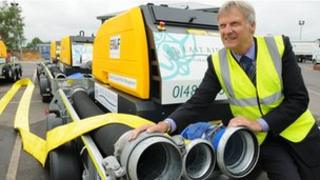 Six new mobile water pumps have been bought to help tackle any potential flooding in East Yorkshire.
The pumps, which cost £145,000 in total, will be based at the council's depots in Beverley, Bridlington, Goole, Hedon, Market Weighton and Willerby.
All six high volume pumps could empty 10,000 bathtubs in one hour when working together, the council said.
They are mounted on trailers so they can be moved at short notice to wherever there is a flooding emergency.
Councillor Chris Matthews said: "Over the past few years our area has borne the brunt of some of the worst inclement weather seen anywhere in the country and we have more than our fair share of localised flooding.
"When we do have a flood there is a demand for pumps and we can't always get them. So we've decided to purchase the pumps ourselves so we can respond quickly to protect our residents."
More than 50 properties, including businesses and homes, were affected by flooding in Goole and Swinefleet last July.
Properties in Burton Fleming and Pocklington have also been flooded over the past few years.
Last year, Yorkshire Water was criticised for failures at its Goole pumping station during flooding in August 2011.