Humberside police commissioner says horses 'not needed'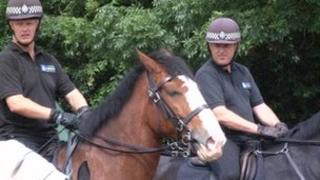 Humberside's police and crime commissioner has defended plans to axe the force's mounted unit, which he said was "not needed as a police tactic".
More than 2,000 people have signed a petition calling for the force to keep its six police horses.
Matthew Grove said there were "so many better ways of policing public order" and the officers would be redeployed to "better protect the public".
Humberside Police said the unit was likely to close by the end of July.
A spokesperson said this had been brought forward from March 2014, as most of the staff had already found alternative roles within the force.
'Maintain frontline services'
Mr Grove said: "[I have met] victims of crime where their lives have been changed forever and I've never met one yet who could've been protected by a police horse.
"We spend £500,000 a year for a mounted section that in its last full year was only used 27 times, and many of those times it was only used, according to the officer I spoke to, not because they needed it but because they had it so they needed to get them out."
A force spokesperson said: "We are currently in the process of making sure the horses go to good homes - these are likely to be other police forces.
"The closure will generate £2m savings over four years and this will allow us to maintain frontline services elsewhere, which are themselves coming under increasing pressure."
Mike Dickenson, who organised the petition and a protest march in Beverley, East Yorkshire, last month, said he would continue his campaign against the plans.