Hull City Council to end free school bus travel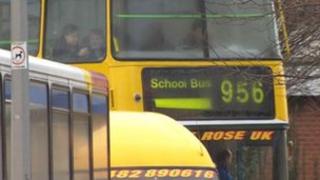 A council has voted to stop free bus travel for about 1,000 school students who do not attend their nearest school.
Hull City Council's new policy, to give free travel only to pupils qualifying on statutory grounds, is to start in September 2014.
Councillor Rosie Nicola said: "We are being forced to make economies, and the new policy will mean that we are able to make significant savings."
The change will save £339,000 in 2014-15 according to council figures.
The authority said about 1,900 pupils would qualify for free bus travel at a cost of £761,000 for 2013-14.
Ged Fitzpatrick, head teacher of St Mary's College, had previously said the changes would "push children and their families into poverty" and make children less safe.
The council cabinet meeting noted petitions against the change on behalf of St Mary's College and Newland School for Girls.
From September 2014 between 900 and 1,100 pupils would still qualify under the new policy, according to the council.
'Hard times'
Local Education Authorities have a statutory duty to provide free school transport for pupils of school age who live beyond walking distance to their nearest school.
The walking distance to school is three miles for children over the age of eight years.
Ms Nicola said the decision had been "a hard one in hard times".
The current policy provided free school transport to pupils significantly beyond the statutory duty, she added.
Ms Nicola said the council would still give free travel to pupils on low incomes or with special educational needs.
The free school bus policy had not been changed since 1996, according to the council.