Lakeminster Park chalet homes: Five arrested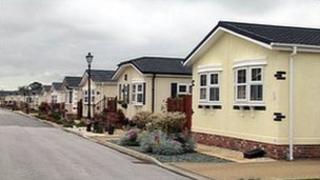 Five people have been arrested in connection with the sale of homes at an East Yorkshire chalet park.
Two men and three women were arrested over allegations of fraud and money laundering on Tuesday and released on bail, pending further inquires.
Lakeminster Park, near Beverley, is home to about 200 pensioners.
Residents were told they could not live in their properties all year round as planning permission was only granted for the properties to be holiday homes.
A 50-year-old man from Wilmslow, Cheshire, a 52-year-old woman from South Cave, East Yorkshire, along with a 31-year-old woman and a 64-year-old man, both from Beverley, were arrested over allegations of fraud.
A 47-year-old woman, also from Wilmslow, was arrested in relation to money laundering allegations.
The arrests were made after a lengthy investigation, Humberside Police said.
People living at Lakeminster Park believed they were staying in retirement homes and have been in a long-running dispute with the council over permanent residency.
East Riding Council rejected a retrospective planning application for full time residency last May.
Appeals against the planning decision will be heard by a government appointed planning inspector at an inquiry on 4 June.