East Yorkshire schools 'underperforming'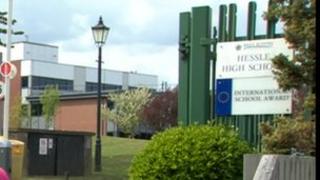 Schools across East Yorkshire are to be inspected this week after education watchdog Ofsted said too many were underperforming.
Ofsted said 35% of the county's schools were classed as "requiring improvement" or "inadequate", compared to a national average of 23%.
Fifteen schools will be inspected while others will be surveyed by telephone.
East Riding of Yorkshire Council said the figures were disappointing and it would work to help schools improve.
Ofsted said it was investigating why children in some parts of England have a much lower chance of attending a school rated as "good" or better compared to areas with a similar demographic.
'No excuses'
It compared East Yorkshire to North Yorkshire, where 22% of schools are rated as worse than "good", and Leicestershire, where the figure is 16%.
The 15 inspections being carried out this week would usually take place over a six-month period, it said.
Nick Hudson, Ofsted's regional director for Yorkshire and Humber, said: "We want every child to have the best chance to attend a good or outstanding school.
"The reason why we are going in to East Riding is to try and find out whether or not there are any reasons why you've got less of a chance if you live within that area."
Mike Furbank, the council's head of achievement, said: "Are we disappointed? Yes we are and there are no excuses for that.
"However, what we need to do now is to work collaboratively with schools to really look at what we need to do to improve."