Hull City Council Children's Centres closure threat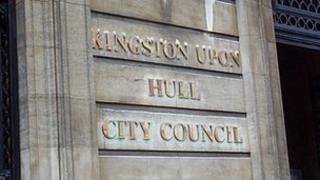 Several of Hull's council-run nurseries could close as the authority makes savings.
Hull City Council said the closure of some of the city's 21 Children's Centres is one option included in a public consultation it has launched.
Following budget cuts, the Labour-led council faces making savings of £600,000 in Children's Centre provision in 2013-14, rising to £1m in 2014-15.
Opposition Lib Dems said any closures would cause "upset and concern".
Launching its public consultation document, the council said alternatives to closures included a reduction in activities and services at the city's Children's Centres or the introduction of charges for some services.
In February, the council approved plans to cut 600 jobs and raise council tax by 1.95% to tackle its budget deficit.
It said it had to save £80m by 2015 because of a five-year reduction in central government funding.
'Considerable pressure'
Introducing the public consultation, Helen O'Mullane, portfolio holder for children's services, said the council faced considerable pressure on financing public services.
"We have looked at keeping the current number of centres and all of the current services they offer, but this cannot be afforded within the available budget."
Mike Ross, deputy leader of Hull City Council's opposition Liberal Democrat group, said the possible closure of Children's Centres would cause "upset and concern" to those who relied on them.
"Before coming into office the Labour administration made a clear promise to their voters and people in the city that they would protect all of Hull's Children Centres from closure," he said.
"Now they look set to close many of them."
The consultation, which is due to finish on 2 August, runs alongside a separate review into the proposed closure of Clifton and Lambert nursery schools and Children's Centres.