Hull MP presses government on flood insurance cover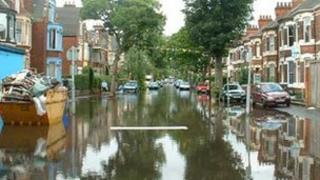 A Hull MP is urging ministers to secure affordable flood insurance for homeowners before a deadline is passed.
An agreement, which is due to expire on 30 June, ensures firms will provide flood cover as long as the government continues to build flood defences.
Labour MP Diana Johnson said she was concerned the government had still not reached an agreement with the industry.
The Association of British Insurers (ABI) said at least 200,000 homes across the UK would be affected.
The government agreed a deal with insurers, known as the Statement of Principles, in 2008 to ensure cover for high-risk homes.
When the pact expires at the end of next month householders may find it difficult or impossible to secure insurance.
Ms Johnson said her constituents had no idea if they would be able to secure their homes after July.
She said: "There was nothing in the Budget and there has been nothing in the Queen's Speech about flood insurance.
"We are in the final weeks of the Statement of Principles. My constituents are getting very worried about getting flood insurance come July."
'Lasting solution'
The Department for Environment, Food and Rural Affairs (Defra) said it was still in negotiations with the ABI on a new deal.
In a statement, Defra said: "The government is having constructive talks with the ABI and is meeting with them regularly.
"We want to get an agreement on insurance that provides a lasting solution and secures affordability and availability of flood insurance for policy holders."
ABI said it was working "very, very hard to try get an agreement" to provide affordable premiums in high-risk flood areas, but had previously said talks were at an impasse.
More than 10,000 properties in Hull were affected when rain overwhelmed the city's drainage system in 2007.
Last December, more than a dozen homes were flooded in Burton Fleming, East Yorkshire, when the Gypsey Race stream burst its banks.