Dead soldier body mix-up report finds 'case to answer'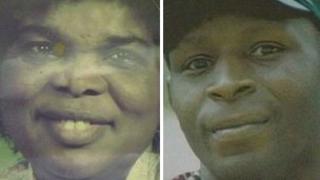 Mortuary bosses missed 10 opportunities to spot they had given the family of a former Hull paratrooper the wrong body to bury, it has been claimed.
Solicitor Ruth Bundy, acting for the family of Christopher Alder, said the finding was contained in a police report.
Mr Alder, 37, died in police custody in Hull in 1998.
His body was found in a Hull mortuary in 2011, indicating his family had unwittingly buried someone else.
Grace Kamara, 77, from Nigeria, had been mistakenly buried in his grave and her body was exhumed in February last year.
South Yorkshire Police led an investigation into how the mix-up happened.
The family solicitor said during the period under investigation, management of the mortuary passed from the local council to Hull and East Yorkshire Hospitals Trust.
Trish Dalby, corporate director city services for Hull City Council, said: "We understand the file has been forwarded to the CPS for their consideration and we are awaiting the outcome of their findings."
'Really devastated'
A spokesman for Hull and East Yorkshire Hospitals Trust said: "It was unable to comment while the matter remains a criminal investigation."
Ms Bundy said the South Yorkshire Police investigation had ended and she had received a summary of the 160-page report.
According to Ms Bundy, the summary states the investigation team have considered the evidence and "believe that three members of the management team of the mortuary between the 1st December 1999 and the 4th November 2011 may have a case to answer.
"The investigation team have identified 10 occasions during this period of time, when they had the opportunity to identify that the body purporting to be Grace Kamara, was in fact Christopher Alder and working practices prevented this," she said.
Mr Alder's sister, Janet said: "I'm really devastated to [find] that a system that I had confidence in has been totally shattered."
South Yorkshire Police confirmed it had concluded its investigation and a report had been sent to the Crown Prosecution Service, which "will advise whether anyone involved has committed criminal offences and whether it is in the public interest to prosecute".
"No further information will be released until the Crown Prosecution Service have made their decision," the force added.
Mr Alder, a former paratrooper, choked to death at Hull's Queen's Gardens police station after being arrested in 1998.
He was believed to have been buried in 2000 at Hull's Northern Cemetery but his body was found in a city mortuary in November 2011.