Three East Yorkshire village schools set to close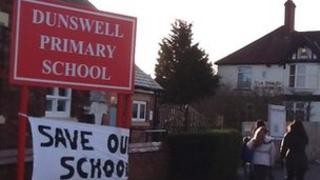 Plans to close primary schools in three East Yorkshire villages have been approved by members of the council's cabinet.
Parents at Dunswell, Gembling, and Langtoft primary schools had been campaigning against their closure.
East Riding of Yorkshire Council said a change in the way central government funded schools made them unviable.
Final confirmation of the decision to shut the schools next year will be made in six weeks.
Despite issuing closure notices, the council said it would consult further with parents and schools in the Driffield area, where Gembling and Langtoft primaries are located, in an attempt to boost the number of pupils attending the two schools.
'Very disappointed'
Caroline Palmer, one of the governors at Dunswell Primary School, near Beverley, said the council had not taken into account the role of a school in a rural area.
"I'm very disappointed with the cabinet's decision today," she said.
"They don't seem to have taken the community aspect at all. It wasn't even discussed in the meeting."
Ms Palmer said campaigners against the closure were applying to the Department for Education to turn the school into an academy.
John Wilson, assistant director of children and young people services at East Riding of Yorkshire Council, claimed that the government's "national funding formula", which was introduced this month, was the reason behind the closures.
Under the plan all schools will get the same lump sum and will be able to apply for extra funding based on criteria such as the number of pupils with special needs and the levels of deprivation in the area.
Being in a rural area will no longer be a factor in claiming extra council funding.
Mr Wilson said: "The inflexibility of this new formula ensures that there are winners and losers.
"The government recognises there will be winners and losers and have introduced a minimum funding guarantee which ensures that a school loses no more that 1.5% of its funding per pupil for the next two years.
"However, that doesn't disguise the fact that some schools will be losing significant amounts of money."