Cleethorpes to Sheffield Saturday train for landslip line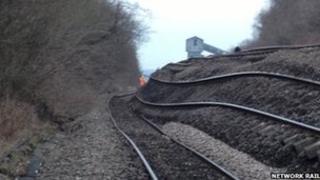 A weekly train service between Cleethorpes and Sheffield will begin in May, more than three months after a landslip damaged the line.
First TransPennine Express (FTPE) has announced it will run one train to and from the Lincolnshire seaside resort on a Saturday, starting from 25 May.
The service will use the Brigg Line, a route primarily used by freight trains.
A landslip at Stainforth, South Yorkshire, forced the closure of the passenger railway line until September.
In February a collapsed spoil heap at Hatfield Colliery pushed the track upwards forcing the line to shut.
'Potentially damaging'
A spokesman for FTPE said: "The Brigg line is not a normal operating route for FTPE and as such both our trains have had to be cleared to operate on the route and our staff have had to be trained on it."
He said the firm had been working to provide a replacement rail service since March.
The 181-passenger capacity, Saturday-only train will leave Sheffield at 10:00 BST and arrive in Cleethorpes at 12:13 BST, after calling at Retford and Grimsby.
A return train will leave Cleethorpes at 18:11 BST and arrive back in Sheffield at 19:58 BST.
The spokesman added FTPE was aware of the "potentially damaging effect to the resort of Cleethorpes with no rail service in operation" and said it continued to meet with local stakeholders and business organisations.
A replacement bus service currently in place between Doncaster and Cleethorpes and Doncaster and Scunthorpe will continue to operate.
Network Rail is continuing to work to restore the line although they estimate it will not re-open until early September.