The Deep aquarium takes seized Cook Islands coral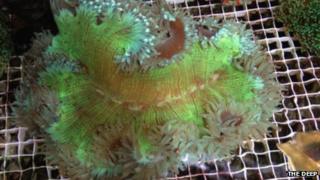 A collection of threatened coral and clams has found a new home in Hull after being confiscated by the UK Border Agency.
The sea creatures were seized after being flown into Heathrow airport from the Cook Islands, in the South Pacific.
They did not have the correct documentation necessary for the transportation of endangered animals.
Originally stored at London Zoo, the coral will be put on display at The Deep aquarium in Hull.
Katy Duke, curator of The Deep, said their arrival would help "highlight the plight of coral in the wild".
Limestone skeleton
"Coral reefs face a bleak future as warming sea temperatures... and ocean acidification threatens future growth and recovery of these important ecosystems," she said.
Coral are made up of tiny marine creatures that normally group together to form colonies.
Hard coral build a limestone skeleton around themselves. A reef is formed as nearby colonies expand, grow and join together.
Normally the East Yorkshire aquarium propagates its own coral said Ms Duke.
The confiscated collection is now in quarantine in The Deep and is to go on display in May.
It was seized due to invalid Convention on International Trade in Endangered Species documents, according to the aquarium.