Train hits car on Great Coates level crossing killing two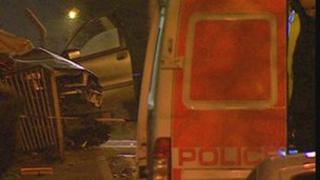 Two people have died in a crash involving their car and a train on a level crossing in North East Lincolnshire.
The driver and passenger of the car died at Great Coates, near Grimsby.
British Transport Police (BTP) said no train passengers were hurt and the train was not derailed.
It is understood the Cleethorpes-to-Scunthorpe train was travelling at about 60mph when the crash happened, at about 19:40 BST on Tuesday.
BTP said one person was confirmed dead at the scene, at the crossing on Woad Lane, while the other died on the way to hospital.
'Extremely loud bang'
"Two people believed to be the driver and passenger of the motor vehicle have been declared dead - one at the scene and one en route to hospital," a spokesman said.
"All passengers were later taken off. The rail accident investigation branch has been informed."
The crossing is an automated half-barrier crossing, the spokesman said.
Lyndsey Downes, who lives nearby, said she dialled 999 after she and her husband heard "an extremely loud bang".
"We [then] saw some sort of debris flying past the window and the train screeching to a halt," she said.
"We opened the door to go outside to see what it was and one of my neighbours shouted to ring 999, which I did.
"I then kept out of the way and I could see it all unfolding up the road."
'Absolutely tragic'
She said other neighbours tried to help at the scene before the emergency crews arrived minutes later.
Nicola Maasdam, chair of Great Coates Village Council, said residents will be in "shock" about what has happened.
"It's absolutely tragic and our thoughts go out to the families of those people who have lost their lives," she said.
"There will be shock. It's such a small village and we haven't had an incident on the railway for years and years, and for something as serious as this, it is really upsetting."