Stranded lobsters released back into North Sea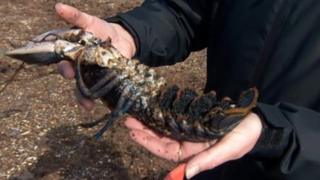 About 450 lobsters have been released back into the North Sea after they were forced ashore on the East Yorkshire coast by strong winds.
The crustaceans had been stranded last week between Fraisthorpe and Barmston, the Independent Shell Fisherman's Cooperative had said.
Other shellfish including crabs and mussels were also rescued by fishermen.
The cooperative said the recent strong easterly winds and cold sea temperatures had caused the stranding.
The crustaceans were held in fresh water tanks in Bridlington after they were rescued from beaches last Thursday and Friday.
The animals were released back into the sea by the North Eastern Inshore Fisheries and Conservation Authority (IFCA) earlier.
Ian Davies, a fisheries officer, said: "It's trying to get the lobsters back as near as you can to where you believe they've come from.
"So with the easterly weather and them coming ashore at Fraisthorpe area, that's probably the best area for them to go back."
Many of the lobsters were pregnant females, the Independent Shell Fisherman's Cooperative had said.
People were warned by the IFCA not to take home any lobsters if they found any that had been washed up on the coast.