Hundreds of dead seabirds washed up on East Yorkshire coast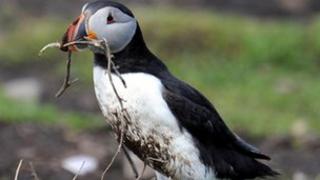 Hundreds of dead seabirds have been washed up along the East Yorkshire coast, according to the Royal Society for the Protection of Birds (RSPB)
The charity said the bodies of puffins, kittiwakes and guillemots had been discovered.
Keith Clarkson, regional reserves manager for the RSPB, said the puffin population was the hardest hit with more than 200 dead birds found.
Mr Clarkson said the recent stormy weather was probably to blame.
'Huge losses'
"It's almost certainly been the terrible easterly winds we've been having for the last 10 days or so," said Mr Clarkson.
"It's just at the time when puffins are gathering offshore ready to start to make their trip back to land to breed.
"They are actually going through a moult, they lose literally all their flight feathers in one go so they can grow their new feathers for the start of the breeding season.
"This storm coincided exactly with this period and as a consequence, there have been huge losses along the east coast of England and Scotland."
Mr Clarkson said the figure of 200 dead puffins was probably just a fraction of the actual real losses and the RSPB were "expecting a real hit on the breeding population".
Last month, an oil spill off the East Yorkshire coast affected dozens of seabirds, killing at least 15.