Tackling empty shops in Hull's city centre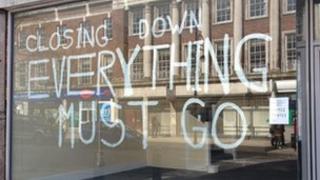 The last few months have seen a number of national chain stores disappearing from the nation's high streets.
Jessops, HMV, Blockbusters and Hull-based electrical retailer Comet have all entered administration.
Despite a reported rise in sales last month, many analysts see continued difficult times for high street retailers.
Last year, a report named Hull as fifth on a list of the UK's towns and cities most at risk of shops closing.
The research by BNP Paribas Real Estate ranked retail centres according to likelihood of more shops closing and the place's ability to withstand a weakening economy.
Van MacIntyre, who runs a newsagent in the city, described the last two years as the "most difficult" trading period since he opened his shop 16 years ago.
Mr MacIntyre said that empty shops were deterring visitors.
"There are shops around us that have been empty a good 10-to-14 years," he said.
"If in an area you've got many businesses that have gone, or a lot of offices have gone, then trade will drop."
Like other retailers in the city centre, Mr MacIntyre pays a levy of 1% of the rateable value of his shop to an organisation called Hull Business Improvement District (BID).
'Poor value'
BID is a partnership between the city council and retailers which aims to boost visitors to the city centre.
They promote events and activities and provide additional security patrols and services, such as graffiti removal.
Mr MacIntrye claimed that the services provided by BID for his £100 annual contribution were "poor value for money".
BID's city centre manager Kathryn Shillito claimed the organisation "was doing a good job" but admitted that empty shops did affect the city's image.
"When you have visitors coming into your city centre you want it to look great.
"You want them to come back and spend their money in your shops, your restaurants and cinemas.
"If you walked down a street and there were a lot of empty shops you would think it looked a bit tired and there is not much going on."
She said that her organisation's latest research showed that 14% of shops in Hull city centre were empty and claimed that the city "is on par with the average across the UK".
Ms Shillito said that the recession in the UK was stopping people spending on expensive items causing a change in the type of shops from traditional retailers to food and drink outlets.
She said: "It's the middle-end cafe bar where if you want to treat yourself and you can't afford to go out an buy a hi fi or a new outfit.
"The feel good factor is you go out for lunch and you join your friends and you spend £15 or so on a coffee and a sandwich."