Revised Cottingham and Orchard Park flood plan on show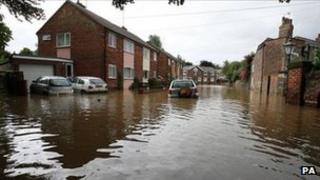 Revised flood defence plans aimed at protecting thousands of homes in Hull and East Yorkshire are to go on display ahead of submission for funding.
The scheme would protect 4,000 properties in Cottingham and Hull's Orchard Park from overland flooding.
The plan forms part of two other schemes by Hull and East Yorkshire councils to prevent a repeat of the devastating floods of June 2007.
The exhibition will be at Cottingham Darby and Joan Hall on 21 February.
Known as the Cottingham and Orchard Park Flood Alleviation Scheme, it has been designed by engineers from East Riding of Yorkshire Council.
The design team has altered the scheme following the last exhibition so it now comprises of one large lagoon and several smaller lagoons as well as diverting the highway in Westfield Road.
Engineers will be available during the exhibition to explain the scheme and demonstrate computer drainage solutions.
East Riding of Yorkshire Council said it would submit a business case to the Environment Agency in spring for £20m funding for the scheme.
Councillor Chris Matthews, from East Riding of Yorkshire Council, said: "The council takes the issue of flooding very seriously and the three schemes, worked on jointly with Hull City Council, will help reduce the risk of flooding for over 10,000 properties in both the East Riding and Hull."